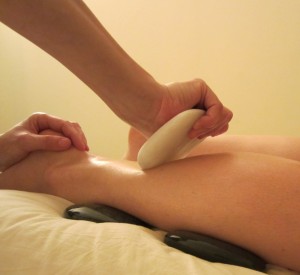 [lang_dk]Det er en speciel oplevelse at prøve en LaStone® massage for de som aldrig har prøvet en massage med varme og kolde sten før. Man mærker spændingerne smelte væk, man sover bedre om natten, man føler sig mere oplagt og energifyldt, og man kan ofte mærke de gode virkninger i flere dage efter massagen.
"Kontrasten mellem varme og kolde sten var en utrolig følelse, som var vidunderligt opkvikkende og den opløftende effekt varede i flere dage."
Brugen af varme og kolde sten gør ikke kun godt for musklerne, men kan også udfordre sindet. Der er nye oplevelser som skal fordøjes, hvilket får hjernen til at fokusere på nuet og give slip på alt andet.
"Cocooningen var vidunderlige – jeg følte mig fuldstændig revitaliseret og forfrisket bagefter, som fortsatte den næste dag. Den hovedpine jeg havde før behandlingen var væk, og jeg sov rigtigt godt natten efter."
Det er meget effektivt at bruge sten og temperaturer i en massage. Det er godt for både afslapning, samt vedligeholdelse for folk som often ender op med stive og ømme muskler pga arbejde, stress eller motion.
"Jeg er persoling træner og langdistance løber, og har ofte adskillige stive, ømme og klagende muskler. Pia bruger varm/kold sten deep tissue massage terapi til at ordne mig og det VIRKER!"
Hvis du leder efter en massage som hjælper dig med at slippe af med stress og bekymringer, løsne stive muskler og spændinger, og hvis du ønsker en massage af høj kvalitet der virkeligt arbejder i dybden, så vil en LaStone® behandling hjælpe dig.
"Jeg er lidt af en massage junkie og stiller store krav (intet er værre end en dårlig massage), men dette var bedre end jeg kunne have forestillet mig. De varme sten var varme og glatte, og jeg kunne mærke hvordan de arbejde ind i musklerne. De kolde sten (overraskende behagelige – overhovedet ikke et chok til systemet) fik effektivt fjernet de sidste spændinger."
Sten massage arbejder på mange niveauer, og mens fokus måske kun er på et område, så vil de helt af sig selv arbejde på alle niveaure; fysisk, følelsesmæssigt og intellektuelt.[/lang_dk] [lang_en-uk]Receiving a LaStone® massage is a unique experience for those who have never tried hot and cold stone massage before. People feel their tensions melt away, they sleep better at night, they feel energized and can often feel the good effects of the massage for days afterwards.
"The astonishing sensation of the contrasting hot and cold stones was wonderfully exhilarating and the uplifting effect lasted for days."
The use of hot and cold stones not only do wonders for the muscles, but can also be a challenge for the mind. New sensations which need to be digested, which causes the mind to focus on the present moment and let go of all past and future worries.
"The cocooning was wonderful – I felt completely revitalised and refreshed afterwards which continued through to the next day. The headache I had before the treatment lifted and I had a great nights sleep afterwards."
Using stones and temperature in a massage is very effective.It is great to use both for relaxation and for maintenance for people who often wind up with sore and stiff muscles due to work and exercise.
" I am a personal trainer and endurance runner and wind up with numerous stiff, sore and down-right unhappy muscles. Pia uses the hot/cold stone deep tissue therapy to fix me and it WORKS!"
If you are looking for a massage that helps you let go of stress and worries, release tight muscles and tensions, and if you want a massage of high quality that really does profound work, you will benefit from a LaStone® treatment.
"I am a bit of a massage junkie and have strict standards (nothing worse than an ineffective massage), but this was beyond what I could have imagined. The hot stones were smooth and I could feel them working into the muscle, but then the cold stones (surprisingly pleasant – not a shock to the system at all!) really got out the last bit of tension."
Stones work on many levels, and while focus might be on just one aspect, they will inevitable end up working on all aspects; physical, emotional and mental.
Originally published on: http://blog.starkeys.com/2011/10/how-you-feel-a…tone-treatment.html[/lang_en-uk]